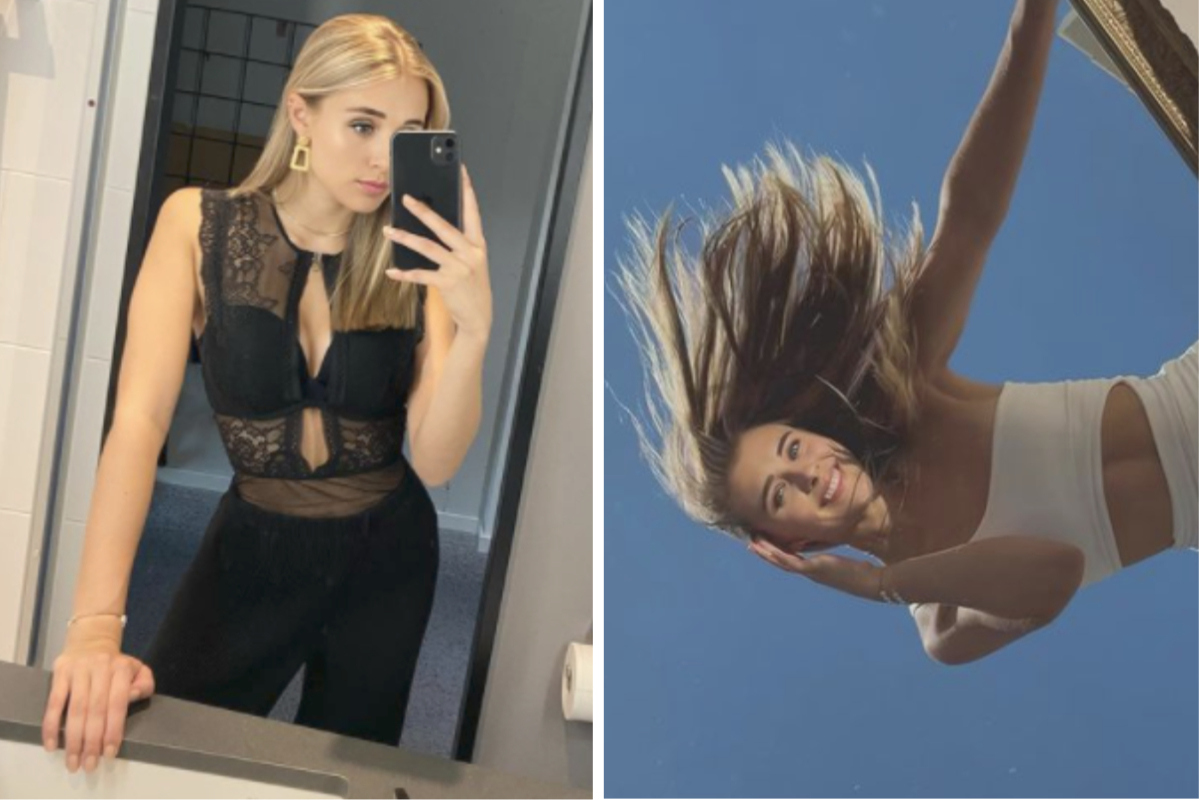 18.07.2021 07:35 1.929
Group lacht sich kaputt: Darum ist dieses Foto von "Love Island"-Greta Pretend
Greta Engelfried lässt für ein Instagram-Posting die blonden Haare im Wind flattern. Allerdings wurde bei der Entstehung des Fotos ordentlich nachgeholfen.
Von
Marc Thomé
Altea (Spanien)/Frankfurt am Foremost – Spanien, blauer Himmel, Sonnenschein, sie lächelt in einen Spiegel, ihre blonden Haare wehen im Wind: "Love Island"-Finalistin Greta Engelfried (21) hat hier wirklich das perfekte Urlaubsfoto auf Instagram gepostet.
Greta Engelfried ist natürlich sehr fotogen. Für das rechte Bild musste allerdings etwas nachgeholfen werden.  © Bild-Montage: Instagram/Greta Engelfried
Allerdings wurde dabei auch ganz ordentlich getrickst. Und da Greta ja jede Menge Humor besitzt, macht sie daraus natürlich auch keinen Hehl."Swipe für ein behind the scenes", schreibt sie zum Posting.Wenn man das macht, dann landet man nach den zwei Fotos bei einem Reel, das zeigt, wie die Bilder und vor allem Gretas wehenden Haare in Wirklichkeit entstanden sind.
Laura Müller
Nach Haftbefehl gegen Michael Wendler: Laura Müller zeigt sich nackt auf Instagram
Gemacht wurden die Fotos offenbar in Gretas Spanienurlaub, den sie kürzlich mit Freunden in Altea an der Costa Blanca verbrachte.Im Reel sieht man, dass die Pflanzen im Hintergrund zwar von einer steifen Meeresbrise ordentlich durchgepustet werden. Für Gretas Haare hat das aber offenbar nicht so wirklich genügt.Und so hilft Kumpel Noah ein bisschen nach – ebenso so einfach wie funktional mit einem Föhn, währen Gretas Freundin Antonia mit dem Smartphone die Fotos schießt.
Ihre Followers finden Greta Engelfrieds Idee richtig intestine
Das löst natürlich bei Gretas Freunden und Followern jede Menge Gelächter und gute Laune aus, wie die vielen Tränen lachenden Smileys zeigen."Das Dritte ist am Beste", findet etwa Dennis, der wie auch Greta in diesem Jahr Kandidat bei "Love Island" warfare, den "Behind the Scenes"-Clip am unterhaltsamsten."Die Artwork von Einsatz: Lieben wir" oder "tremendous Foto-Idee, richtig schön" finden weitere Follower, dass das Tricksen beim Wind zu einem richtig guten Ergebnis geführt hat.
"Love Island"-Traumpaar: Auch Gretas Freund Fynn will einen Föhn
Und Gretas Freund Fynn Lukas Kunz, den sie bekanntlich bei "Love Island" kennen und lieben gelernt hat, bringt das Ganze auf eine spontane Schnapsidee."Kann man dich buchen? Ich will das auch", fragt er Föhnhalter Noah. Allerdings dürfte bei Fynns Kurzhaarfrisur auch der stärkste Föhn nur geringen Erfolg haben …
Titelfoto: Bild-Montage: Instagram/Greta Engelfried
Mehr zum Thema Promis & Stars: